Workshop Title:
Workshop on Machine Learning for Medicine 2023 (WMLM2023)
Date:
October 13th, 2023 (GMT+12)
Organizer:
Faculty of Medical and Health Sciences and Bioengineering Institute, The University of Auckland
Keywords:
Machine Learning
Artificial Intelligence
Biomedical Data Analysis
Medical Imaging
Image Guided Surgical Robot
Workshop Chair:
Personal Bio:
Alan Wang is a principal investigator and Associate Professor at The University of Auckland. He has more than ten years of research experience in bioengineering informatics and integrated medicine, especially in advancing the role of medical informatics in health care. His research interests include bioengineering, data informatics, neurocomputing, and biomedical statistics and simulation. He has developed medical data analytics methods for mobile health and personalized diagnosis and prognosis based on intelligent computing theories. He has experience analyzing huge cohorts of patient data with applications of early diagnosis, disease understanding, and effective treatment of patients with different disorders. He serves as an Editorial Board Member and an Active Reviewer for several international journals.
Workshop Description:
Background:
Machine learning (ML) has emerged as a transformative tool in the field of medicine. By leveraging vast amounts of patient data, ML algorithms can assist in disease diagnosis, risk prediction, and personalized treatment plans. In medical imaging, ML models analyze scans and images to enhance detection accuracy for conditions like cancer and cardiovascular diseases. Furthermore, machine learning expedites drug discovery by identifying potential candidates and optimizing formulations. Personalized medicine benefits from ML's ability to consider individual patient characteristics and provide tailored healthcare interventions. Electronic health records analysis enables the extraction of valuable insights, improving clinical decision-making and patient outcomes. Wearable devices and patient monitoring systems powered by ML algorithms offer real-time data analysis for early detection of health issues. With AI-powered chatbots and virtual assistants, patients can access medical information and preliminary diagnoses conveniently. Machine learning's integration with medicine holds immense promise for advancing healthcare delivery and improving patient care.
Goal/Rationale:
Workshop on Machine Learning for Medicine 2023 (WMLM2023) aims to bring together scientists, engineers, and students to discuss the latest advances in interdisciplinary research on machine learning for biomedical data analysis with clinical applications using machine learning and artificial intelligence techniques/methods. This workshop is designed to introduce Artificial Intelligence methods and connect them with applications that can leverage AI in research, such as cancer imaging quantitations, neurodegenerative diseases early diagnosis and prognosis, cardiovascular imaging quantifications and simulations, stroke prediction and rehabilitation, surgical navigation/robots, intelligent biosensors, etc.
Scope and Information for Participants:
Detailed research topics include, but are not limited to:
Artificial intelligence in medicine
Machine learning models for analyzing medical data
Image guided intervention
Image guided surgical robotics
Data mining in healthcare
Medical image analysis
Medical informatics
Intelligent medical diagnosis
Intelligent healthcare informatics
Biomedical knowledge
Biomedical knowledge reasoning, extraction, and graph construction
Explainable diagnostics support system
Multi-modal biomedical data analysis models
Multi-modal transformer models for biomedical data
Biomedical data anonymization
Privacy-aware biomedical data analysis and federated learning
Self-supervised learning for multi-modal biomedical data
Biomedical image/signal processing
Sensing, detection, and recognition in biomedical image/signal
Natural language processing and knowledge discovery in biomedical documents
Emerging digital healthcare applications
Mobile and cloud computing for digital healthcare
Security, trust, and privacy in digital healthcare
Highlights: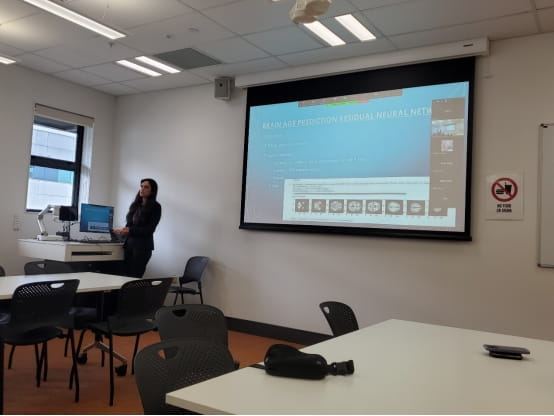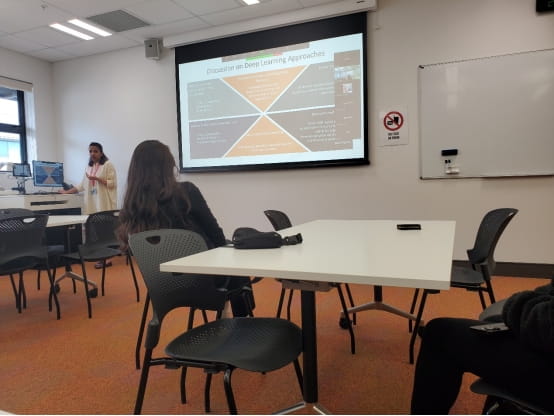 The Workshop on Machine Learning for Medicine 2023 offers a comprehensive exploration of the intersection between machine learning and the field of medicine. Join us on Friday, 13th October 2023, from 13:30 to 16:30 at Room 502-463, or connect remotely via Zoom. This workshop serves as a platform for experts, researchers, and practitioners to converge, exchange insights, and catalyze innovation in utilizing machine learning techniques to address critical medical challenges.
Throughout the workshop, participants will be immersed in the latest advancements and trends in machine learning tailored specifically to the realm of medicine. The presentations will cover various topics, ranging from cognitive training and neuromodulation in stroke, to cutting-edge applications like brain age estimation using T1-MRI. Attendees will gain profound insights into stroke lesion segmentation, deep learning methodologies, and quantification of multiple brain lesions. These presentations promise to illuminate the transformative potential of machine learning in the medical landscape.
The interactive nature of the workshop encourages dynamic discussions and meaningful exchanges among participants. By the conclusion of the event, attendees will emerge with a deeper understanding of how machine learning can revolutionize healthcare outcomes, diagnostics, and personalized medicine. Moreover, the Workshop on Machine Learning for Medicine 2023 provides a unique networking opportunity, fostering collaborations that have the potential to drive substantial progress in the dynamic field of machine learning in medicine.
Access to Workshop:
CONF-MLA 2023 Workshop -- Auckland - YouTube
Venue:
Grafton Campus, The University of Auckland, Auckland 1023, New Zealand
VISA:
Welcome to Govt.nz | New Zealand Government (www.govt.nz)
Visas and travel
Check New Zealand government websites for official, up-to-date information about travelling to New Zealand, visas, and COVID-19.
Borders and visas
Immigration New Zealand have up-to-date information for people who:
want to enter NZ
are in NZ
study in NZ
want to start a business or invest in NZ
are NZ employers.
New Zealand-visas — Immigration NZ(external link)
COVID-19 — Immigration NZ(external link)
Biosecurity and customs rules
Find out what you can and cannot bring into New Zealand.
Bringing things into New Zealand
Travelling to NZ by air
Travellers flying to New Zealand by air need to complete a Passenger Arrival Card to enter the country, which is handed out onboard your flight to New Zealand. Travellers no longer need to complete a New Zealand Traveller Declaration to enter New Zealand — this was part of New Zealand's COVID-19 entry requirements that were removed on 20 October 2022.
Help for New Zealanders overseas
Register with SafeTravel to receive alerts about important changes to travel advice.
Official registration for New Zealanders living and travelling overseas — SafeTravel(external link)
If you need emergency help, find out who to contact and what they can help you with.
Emergency help when you're overseas
Visitor visas and the NZeTA
NOTICE:
Should your application be denied, the organizing committee cannot change the decision of visa officer, nor will CONF-MLA engage in discussion or correspondence with the visa application center on behalf of the applicant. The registration fee CANNOT be refunded when the VISA application of individual being denied.